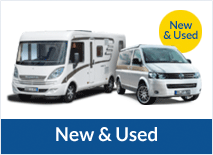 Would it surprise you to learn that only 5% of female motorhome owners solely drive their vehicle?
Comfort Insurance recently undertook a survey in the UK, asking 140 motorhome owners who drove their beloved RV. 51% of the men surveyed stated it was their job to drive the motorhome and only 5% of women stated they were the sole driver, leaving 44% of couples that share the driving load whilst travelling in their motorhome.
Number Of Female Motorhome Drivers Soaring In The US
The results are in direct contrast to the trend currently occurring in the US, which is seeing a rise in the number of sole female motorhome owners, especially in ladies over the age of 50. This rise seems to be due to a number of factors including divorce in later life, larger disposable incomes and a growing ageing population.
Comfort Insurance wanted to investigate the reasons why the trend has not yet travelled across the pond, so met with a few of the 5% to see if the motorhome bug could be spread further across the UK female population.
UK Slowly Picking Up On The Trend
The research uncovered that although tiny in comparison to the US motorhome/RV enthusiast's world, there is a burgeoning UK culture for solo female travellers. On the internet, although there are not any solely female sites in the UK yet, there are a number of female friendly forums which contain a good mix of both single and couple motorhome owners, from which meet ups can be arranged safely.
During the survey, it was revealed that one of the main reasons the percentage of sole women drivers was so small was due to a lack of confidence when driving Class A vehicles.
Motorhome Driving Tips
There are many tips for women who would like to increase their confidence when driving, especially motorhomes and campervans:
Book on a motorhome manoeuvring course to practically learn how to drive a larger vehicle
Regularly practice the knowledge you gained on your course, so that your new skills don't become rusty
Use the forums available to search for like-minded women. Through mutual support and friendship, you can build confidence together
Join a motorhome club – you may meet another woman desperate to drive her motorhome who just needed that push from a supportive friend
Plan your journey in advance. This will give you the added confidence of knowing where you are going, having studied your chosen route
Plan plenty of stops along your journey. If you feel you need to stop and take a break, knowing there is one due at regular intervals will reduce stress
Plan your journey for the summer months, to make full use of the longer summer days, reducing the need to travel in the dark
Ensure friends/motorhome club members know your travel plans – they can advise and support if and when necessary
Keep your mobile phone charged in case of emergencies
Travelworld Motorhomes
The expert team at Travelworld Motorhomes can provide support and guidance for any potential solo female motorhome drivers. We can provide a wide range of service packages to ensure your vehicle is in perfect condition before embarking on any unaccompanied journeys. We can also assist with motorhome safety accessories, tips on basic maintenance whilst on your travels and advice of how to get the best from your motorhome. Please don't hesitate to give our friendly team a call on 0844 880 493.