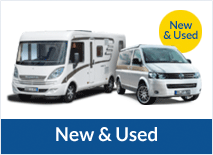 The new Auto-Trail frontier range comprises of nine different models, all designed for distance. The series includes different layouts, lengths and weights to suit a range of varying needs and wants. Below is a glimpse of what you can expect from each model in the frontier range:
Interior-wise, all 2014 Frontier models benefit from Fairbourne upholstery which comes as standard with Livinsgtone leather available as a cost option on models with no fixed beds. All floorings in the series have hardware cushioned vinyl flooring and loose laid carpets.
Navajo
The Navajo is one of the most popular models in the Auto-Trail Frontier range with its 'classical British layout'. It is 6.8 m in length, weighs 3500 kg and comes with three-pack options including Media Pack, Sport Line and Media Pack Plus. It is an economical model with three Fiat Ducato Multijet engine options.
Mohawk
With a 7.50 m length and a weight of 4250 kg, the Mohawk is the first choice for those looking for a strong and spacious motorhome to carry their various heavy-duty sporting and leisure equipment. It comfortably houses a large transverse double bed and plenty of storage space.
Engine upgrades include 147 bhp and 177 bhp as well as Fiat Comfortmatic transmission, which is available on all engines.
Savanah
The Savanah is 7.60 m in length and weighs 4250 kg. There is a rear bedroom area with twin beds and it is possible to segregate the bathroom ad bedroom from the living space, to create an en suite bedroom feel. 150 bhp and 180 bhp manual engine upgrades are available.
Dakota
The Dakota weighs 4250 kg and has the largest separate shower compartment in its class, thanks to its span across the complete width of the vehicle at the rear. It has a powerful engine that is Euro 5 Compliant as well as a six-speed manual gearbox and engine upgrades available.
Delaware
The luxurious island bed and front lounge space are two of the main features of Delaware. Engine upgrades of 147 bhp and 177 bhp are also available, along with the Fiat Comfortmatic transmission.
Scout
The Scout is a hi-line model which is 7. 9 metres in length and weighs less than 4250 kg. Popular with those who enjoy inviting guests; there is a large rear lounge that is versatile enough to convert into two beds. The low emission engine is Euro 5 compliant and cost option upgrades are also available.
Comanche
The Comanche is the frontier range's tandem axle six-wheel model built on an Al-Ko Kober chassis. It has impressive braking efficiency and road handling ability. The furniture has been carefully crafted and the layout is typically luxurious with a deluxe island bed, central kitchen and spacious front living area.
The impressive proportions and maximum versatility are the two main facets of the six-wheeler ARAPAHO, one of the largest models in the frontier range. It has a permanent bed; is available as a hi-line option making it possible for six to sleep and it is built on the Al-Ko Kober chassis.
Chieftain
The Chieftain is the third of the 8.73 m (also the Comanche and the Arapaho) large six-wheel models available in the Auto-Trail Frontier range. Onboard there is a spacious kitchen for maximum cooking and entertaining pleasure as well as a double transverse bed and separate offside shower.
Like the other two larger models, it has a Fiat common-rail low-emission 177 bhp Euro 5 engine and a six-speed manual gearbox.
Buying Your Auto-Trail Frontier Motorhome With Us
If you are interested in any of the Auto-Trail Frontier models or parts then we recommend speaking to one of our Auto-Trail specialists at Travelworld Motorhomes. You can see the models for yourself in our comfortable and relaxed showroom, or you can call us on 0844 808 4938 for more information and advice.