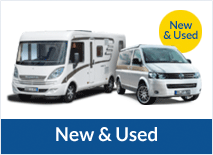 The idea of a festival sounds like a fun way to spend a weekend. Alas, the thought of squeezing a tent into a small, damp piece of grass in the middle of a field, with the nearest toilet at least a mile away fills us with dread.
An alternative way to enjoy the atmosphere of a festival, without the camping woes is to do like to celebrities do, and take a motorhome. We can't guarantee backstage passes and entrance to the VIP area, but a motorhome can offer you a dry, clean bed and a working toilet available in middle of the night; gingerly nipping outside the tent for a late night comfort break with the risk of bumping into other revellers can be avoided.
Glastonbury, Reading, Leeds Festivals By Motorhome
Whether you want to visit Glastonbury, Reading and Leeds, Hay, Isle of Wight, or any of the Motorhome Shows across Europe we have let you know about on this website, a motorhome may be just the right vehicle to get you on the festival circuit.
Motorhomes come in all shapes and sizes, to accommodate a vast array of choices you may want to consider, a two berth for a couple, or you could club together with friends or family and take a larger vehicle with up to five berths. With plenty of storage space for food, drink and a change of clothes, it really will be a home from home, providing convenience whilst having the time of your life at the festival you have always dreamed of attending.
There is also one less thing to consider, losing the car for the journey home! Your vehicle will provide you with transport and a safe haven for the whole weekend.
Things to think about if you want to take a motorhome to a festival:
Costs to pitch your motorhome plus the cost of festival tickets
Is there a campsite nearby that may reduce the costs of pitching?
Don't forget to book your pitch in advance to ensure your space
Make sure you have enough fuel for the journey home
Check your insurance policy will cover your stay
Upon arrival, find the fresh water tap for filling up your fresh water tank
Check your pitch has enough space for your awning for the late night BBQs
Make sure you pack sufficient food and toilet roll for the duration of the festival
Check the gas and water tanks before you set off on your journey
Check where you dispose of the contents of the toilet cassette and grey water
Check the festival websites, they will advise you of all you need to know about motorhomes at their festival
Plenty of storage space in the vehicle will ensure an easy packing time at the end of the festival
Plan your journey home. Make sure you leave enough time to recover from the time of your life before you leave your pitch
Ensure you have had enough sleep and are not too tired to drive
Ensure you are not over the legal alcohol limit for driving when you set off home
Travelworld Motorhomes
If you are thinking about purchasing a motorhome or RV for a summer of festival going, then the expert team at Travelworld Motorhomes can provide support, advice and guidance on the best vehicle for your needs.
We can provide service packages for prior to setting off to ensure your vehicle is in perfect condition before you embark on your trip. We can also assist with motorhome accessories and tips on basic maintenance whilst away.
So, if you fancy enjoying the comfort of waking up after seeing your favourite band in a clean, dry home from home motorhome, being able to make a nice cup of tea and taking in the morning after atmosphere, then give us a call on 0844 880 4938, our experienced teams will be more than happy to share their knowledge and expert advice on sales and service packages that Travelworld Motorhomes can offer.