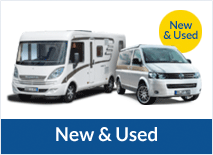 The new Chausson Exaltis a-class motorhome line is a world-class range of motorhomes that provides a unique and practical mix of the finishes, all wrapped up in a reasonable price tag.
The Chausson Exaltis A-Class motorhome range demonstrates that integral motorhomes don't have to assume a status of 'compromise' and that the interior designs are both alluring and compelling. Along with electric windows, central locking and even a spacious 175L AES refrigerator, the ratio of features to price is very positive.
Exaltis 6014
At just under seven metres in length, the 6014 seats, sleeps and dines four people comfortably, with room for expansion. With various engine sizes and powers, this model is able to carry everything it needs with optimal efficiency and there is also bike storage space in the garage area.
Exaltis 6018
Again, under seven metres, the 6018 does not fall short on features. With 6,000W Diesel heating and a luxury finish in the main room, the 6018 is something to admire. Part of the "off-centre central bed" trend, it even allows for a separate shower whilst maintaining the class of incorporating a central sleeping space. No wonder it's one of the year's best sellers…
Exaltis 7017
A maxi fridge, free standing shower and twin beds, the 7017 incorporates everything in harmony, with enough room to have guests and there's more than enough room to store all your essentials and those little luxuries with the remaining space allowing for ultimate relaxation.
Exaltis 7018
Perhaps the chief of the Exaltis range, the 7018 has everything; it's captivatingly beautiful, incorporates a plethora of features in a comfortable chunk of the size you'd expect and the space makes you feel right at home.
Buying A Chausson Exaltis With Travelworld Motorhomes
Please get in touch with the Travelworld motorhome sales team to find out more about the exciting Chausson Exaltis range. Chausson is part of leading motorhome group, Triango which is prevalent throughout Europe and forms one of our main luxury brands at Traveworld.
If you are thinking about buying a Chausson motorhome then have a look at the models available on our site including the Chausson Best Of and Chausson Welcome ranges. Alternatively, please call us on 0844 808 4938 or come and visit our showrooms where you are able to see, touch and feel all of our different luxury motorhomes.