If A has been standing for awesome when it comes to the Dethleffs Alpa Class then I will very much be for incredible.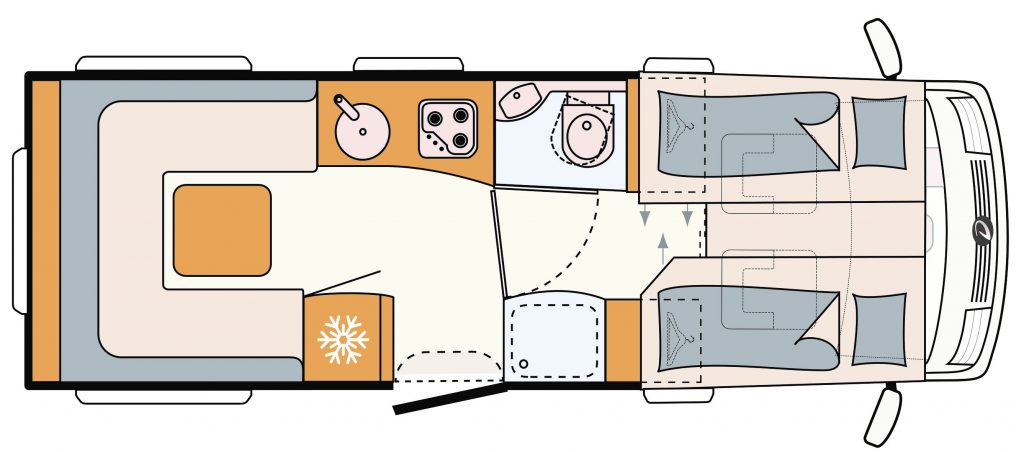 Over recent years, the Alpa A 6820-2 has become regarded as one of the most sought-after motorhomes of its kind on the market.
Spacious and stylish in equal measures and beautifully crafted with the finest upholstery, there is so much to admire about the existing model.
Dethleffs, however, is displaying its determination to continue producing an innovative and enhanced offering and is introducing the upgraded I range in 2022.
The impact will be immediately obvious, with a new integrated front and the option to have the cab in silver metallic instead of the traditional white.
At 7.5m in length, the I layout will be a slightly larger version than its predecessor, making the U-shaped lounge even more spacious for those relaxing evenings.
The I range will also include the ultimate in bedtime comfort thanks to electric two-sleeper single beds, featuring two large wardrobes underneath to provide even more storage.
New cosy floor lamps will add to the luxurious interior feeling while a separate changing area independent of both the living room and bedroom ensures the extra space is fully capitalised on.
And on those chillier evenings, the Dethleffs Lifetime Plus package means standard warm water heating and heated double floor comes as standard to help defy the cold temperature.
From an engineering point of view, there is also much to admire. The Heavy Duty 140bhp Chassis now comes as standard, with the option to upgrade to 160 or 180bhp engines, while there is a reinforced spring for the front axle.
All of which makes the new Alpa I6820-2 easy to handle and one of THE vehicles to see the world with in 2022.
Dethleffs are certainly upping the ante – and the Alpa!