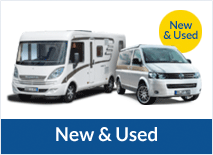 To mark 35 years' association with Ford, Chausson Motorhomes has released a limited edition Best of Range which includes some of the best layouts available on a Ford Carrier in the last 10 years.
As well as a strong salute to the layouts, the Best of Range also offers a suite of luxuries and some very attractive prices.
With a purchase from the 'best of' range, you could be enjoying all the must-have features:
Inter-cab air conditioning
Super-effective fog lights
A modern radio
The layout you want in the model you desire.
'Best of Chausson' Range: What can you expect?
Best of S3
A great space, allowing you to sleep up to six people in this luxury motorhome.
A compact over-cab allows for maximum comfort & living space, all in harmony.
Full-length bunk beds provide the perfect sleeping environment for children of all ages, as well as a spacey double bed.
With a panoramic skylight and swift cruise-control, the world is your oyster in this affordable, incredibly luxurious model.
Best of 02
A panoramic skylight lets you enjoy the views at night, on a peaceful weekend away.
An incredibly compact over-cab still makes room for comfort, as you drive this 5.79m long motor-home.
With plenty of space inside, at less than 3m high, it makes for an easy driving experience.
Inclusive cruise control allows you to relax at the worst of times.
Best of 10
Another Ford favourite, this range includes maximum luxury at an affordable price.
A 'maxi' refrigerator allows you and your family to make the most of meal times. Plenty of room to store all those essentials… And more.
The 'maxi' bathroom; The essential for any motor-home. Space, luxury and practicality are all included to give you the best experience.
With the skylight and cruise control, this 6m motor-home will quickly cement it's place in your heart.
Buying Your Chausson With Travelworld Motorhomes
If you would like to know more about the Chausson Best Of Range then please get in touch with one of our motorhomes specialists at Travelworld. Our friendly and helpful sales team is available to answer any further questions you may have about Chausson Motorhomes.
Travelworld Motorhomes specialists in all premium brand motorhomes, including Niesmann and Bischoff, Hymer and Autotrail. If you have a general enquiry about a new or used American RV or motorhome then our team is happy to help.