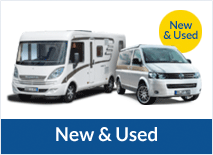 BMW has made a confident move into the motorhome world; marked by the unveiling of the BMW M motorhome at the MotoGP this year.
The model has been designed to provide a platform for sales at the event. BMW perhaps also demonstrates further its premium brand status by exhibiting itself in a vehicle like a motorhome which exudes presence and status.
The model was officially launched at the Grand Prix weekend in Mugello last week and is also showcasing at the MotoGP 18 race series to further demonstrate BMW's technology and engineering capability as a whole.
Unique BMW Design
BMW has pulled together its engineering superiority to produce a 14 metre long trailer which, with the use of fully-hydraulic and automatic levelling stabilisers and unfolding side extensions, converts into a BMW M motorhome.
The space is divided into a reception and sales room, a meeting room, an office and a kitchen. It even has an 18 m2 mobile roof garden.
Providing A Focal Point
The BMW M Motorhome provides a focal point for the MotoGP community which includes everyone from riders, teams and journalists.
This will be the 15th year that BMW has been involved with MotoGP, each year, exhibiting its vehicles as 'Official Car of MotorGP.
Director of Sales and Marketing at BMW M BmbH, Thomas Schemera, said that the BMW M brand was synonymous with sporty design and innovative technology and that the theme continues in the motorhome. He also added that the company is proud to be using the only 3D car configurator currently in use.
Dorma Sports, organisers of the MotoGP championship said the motorhome is one of the many highlights of the weekend.