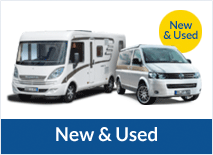 Auto-Trail has recently added two new exciting layouts to its V-line range. Released in 2013, the V line 600 has already proved a popular choice and with the addition of two new layouts now there is even more reason to explore this compact motorhome range.
Both of the layouts are less than 6 metres long, meaning that they are easily manoeuvrable – just like the 600's layout.
Below is a summary of what you can expect from the two new arrivals on the block.
Auto-Trail V Line 610 Layout
A spacious and luxury rear lounge, adding to the class of the vehicle. This can also be converted into a beautiful double bed, making it feel just like home.
An offside washroom meaning that personal hygiene on the road can be easily achieved in the most comfortable of settings.
A kitchenette which has all of your must haves. Enough room to rustle up a lovely meal for everyone in your new home.
Auto-Trail V Line 620 Layout
Safety First. The 620 features four comfortable seatbelts to keep your family safe on the road.
A rear transverse double bed allows for maximum living space & sleeping space.
Both models also feature masses of headroom to go alongside (or above) the high standards you will always get from Auto-Trail. A Euro-5 compliant 2.3 litre Fiat Ducato Multijet engine makes for the perfect amount of power for your Motorhome. The air conditioning will help make those summer days cool like an autumn breeze, whilst the cruise control and six speed gearbox will get you there in style
More information is due to be released about the 600 and the 610 so watch this space.
Buying Your Auto-Trail V Line With Travelworld Motorhomes
Auto-Trail is one of the best loved motorhome brands; manufactured in the UK and built with quality and precision, Travelworld motorhomes are pleased to be one of the main dealers for Auto-Trail motorhomes.
As well as the Auto-Trail V Line we sell Apache, Tracker and Frontier ranges as part of both of our new and used motorhome ranges. If you would like to speak to one of our sales specialists then please get in touch with us on 0844 808 4938 or come and visit our showrooms where you can see a range of other luxury motorhome brands.