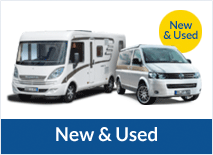 Don't let the sudden suggestion of looming winter weather put you off planning a motorhome holiday in the cooler months of the year.
Some of Britain's top attractions and locations are best visited in autumn or winter, and providing you have the necessary provisions in place, you should not have any problems on a winter motorhome holiday.
Motorhome Winter Trip Check List
There are a number of things you will need to do to your motorhome during the winter, storing it safely and preparing for it to be out of use for months are just a few things you will need to take care of.
However, if you have decided that you are not ready to pack up for winter and still want more motorhome fun then here are a few tips on how to make the most of your motorhome winter break.
As always, safety should come first so even if you have been out and about in your motorhome over the summer you should make a few checks first. Take a look at the condition of your tyres; check they have the correct tread and there are no signs of perishing
Check fluid levels in all areas including power steering, engine coolant, engine oil and windshield washer. Check to see if there are any leaks anywhere and if there is get it checked out by a trained professional
You'll be taking more layers on any winter break including a motorhome trip. If you are unsure of your weight then take it, loaded, to a weighbridge, this will also help you established the correct tyre pressure settings for your particular motorhome
Plan your trip. Have a look at your intended destination to see if there is any potential for delays and safety risks. i.e. see if your route includes any areas which are prone to flooding, large traffic build ups or remote locations with few facilities
Make sure that your camping destination has the facilities you want. If you want more of a rugged adventure then be equipped with emergency supplies
Travelworld Motorhomes Aftersales Service
If you would like to know more about how to get your motorhome prepared for winter weather then please get in touch with our experienced aftersales team at Travelworld.
Our team can offer more advice on giving your motorhome a winter health check and tell you more about the practicalities of correctly storing your motorhome in winter.
We can also tell you more about when you need a motorhome/campervan mot or service. We also offer advice on maintaining your air conditioning unit and cleaning your water tanks ready for winter storage.
Please get in touch with our team today on 01785 878787.
Travelworld – New and Used German Motorhomes and Campervans
UK motorhome dealer, Travelworld Motorhomes.  stock new and used motorhomes and camper vans. They stock a wide range of vehicles, both new and used, from leading manufacturers such as Carado, Dethleffs, HYMER and Niesmann + Bischoff. At our showrooms in Staffordshire, we are able to service the requirements of both those in the market to buy a new motorhome, and those who already own a vehicle via their extensive NCC approved workshop.