Niesmann + Bischoff Understated luxury
Loading the player …
How would you define the styling of a Niesmann+Bischoff motorhome?
I'd probably sum up the style of Niesmann+Bischoff to be understated, but to have engineering brilliance. They always make comparison with their German brothers in the automotive industry, as a motorhome manufacturer they strive to meet the same sort of levels of appearance and styling as those sort of size companies.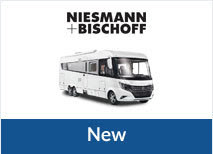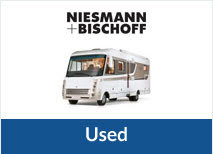 How has the exterior styling changed for 2014?
Niesmann+Bischoff have made a very big investment in the exterior changes for 2014, particularly on the Arto.
It's gone very much more German car-like or Land Rover product-like, with LED lighting and the black sections; it's really a more pointed style.
How have Niesmann+Bischoff made the interior as comfortable as possible?
German brands generally go out of their way to make things comfortable in terms of the furniture, very high-quality materials are probably the first thing to point out, even down to the work surfaces in the kitchens where it's all top level.
How have the beds been designed to maximise comfort?
Niesmann+Bischoff beds have always been designed with maximum comfort. The physical size is over two metres in length for the single beds, so the physical size of doubles and singles are very large, cold foam mattresses, sort of similar to memory foam, so again very high quality expensive material, expensive features.
Where the beds are normally on top of the garage space, so it doesn't allow for any wooden slats, they compensate for that with a plastic suspension system called Froli, which is a very expensive system, but that makes for extra comfort and gains air flow.
It means that your weight is spread more evenly over the whole of the bed and you don't get the sort of dipping that you get in normal systems.
What other interior designs have inspired the Niesmann+Bischoff team?
I think, like many manufacturers, they will look outside of their industry, so probably in terms of quality and design I would imagine yachts are high on the topic for Niesmann+Bischoff, typical German understated quality.
It's like a boutique hotel, a very modern city hotel I would imagine that's as the closest comparison.
How does the lighting design compliment the look?
Niesmann go out of their way to get the lighting right for all their motorhomes and have done for many years. They've been using LED lights exclusively throughout the whole of the vehicles for several years now before most manufacturers had tuned into it.
There's just such a vast array of lighting combinations that you can apply when you're in the vehicle, whether it's just side lighting or ceiling lighting or a mixture of the two, you can have it as bright or as mellow as you wish.
What makes Niesmann+Bischoff motorhomes stand out from the crowd?
The first time you use a Niesmann+Bischoff I think you really notice the quality difference through everything you touch and feel and the materials they use, whether it be door handles or soft-return drawers or the cabinets with these metal hinges and handles, rather than plastic, there's this difference that you feel everywhere within the vehicle.
It gives you that feel-good factor of just being in the vehicle, whether that's in the bedroom area or in the lounge area and you can just tell the quality.
Niesmann+Bischoff have had customers in motorsport for many, many seasons. They have some very big customers in their home touring car championship, as in this country, and they recently sponsored a new customer in the Formula 1 paddock, Timo Glock, who has a Niesmann+Bischoff Flair.
The guys that are using the motorhomes regularly have not necessarily had motorhomes in the past but again want the best quality and want something that appeals to a younger audience.
CALL 01952 586888 OR
Send us an enquiry