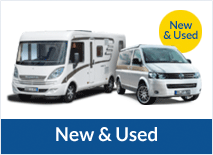 The Motorhome Awards 2014 has revealed a list of nominations that includes some of the most prestigious motorhome brands available.
HYMER, Chausson, Niesmann and Bischoff and Autotrail have all been shortlisted at the influential awards, presented in association with the Caravan Club.
Motorhome Judging Panel
The panel of judges is made up of some of the motorhome industry's principal authorities from MMM Magazine and Which Motorhome. They have assessed the latest and significantly modified motorhomes to provide a series of nominations in several different categories.
Below is a taster of some of the most anticipated award class nominations:
Niesmann and Bischoff Arto 88E Nominated For Luxury Motorhome Of The Year

Last year, Niesmann and Bischoff scooped a win for the Luxury Motorhome of the year the Motorhome Awards with the impressive Arto 66F. This year, it's the turn of the Arto 88 LE for its moment in the limelight.
Synonymous with luxury, the Niesmann and Bischoff brand already has a strong advantage in the luxury motorhome category. Couple its brand status with all the qualities of the 88LE and you can see why this model has made the shortlist; built on a Fiat Chassis, this 4 berth A Class motorhome provides a sanctuary of space with its 8.8 m length measurement; a myriad of luxury accessories and suite of optional extras that would surprise and delight even the most discerning motorhome buyer.
Hymer Nominated For The Campervan Of The Year
Hymer's HymerCar Sydney boasts a multitude of unique features including a top sleeping area which is home to the biggest bed in its vehicle category; power sockets in all the right places and self-adhesive insulating window inlays, providing protection from all weather conditions.
Auto-Trail Shortlisted For High-Top Van Conversion Of The Year
Auto-Trail's V Line 600 is a high spec van conversion with a feast of attractive features including; a GRP roof which provides increased interior headroom; excellent fuel consumption; a shorter length (less than 6 m ) for low-cost ferry crossings; added insulation and a number of optional extras including reversing camera and Sat Nav.
Chausson Gets Nomination For Family Motorhome Of The Year
Chausson's Sweet Family is stylish and practical. It is home to an island kitchen; electric roof bed; two rear bunks; 3 point seats belts; baby's ISOFIX for car seat. There is also a panoramic skylight, height-adjustable seats and TV sliding plate, to name just a few of its popular features and attractions.
Fixed Single Bed Motorhome Of The Year – The Hymer Exsis-t Nominated
Hymer-Exsis-t 588 exemplifies the intelligence behind this well-loved brand. There has been a clear focus on creating the balance between weight reduction and provision of equipment. The Exsis-t utilises lightweight materials like styrafoam insulation to generate a weight which falls under 2,700 kg and it also manages to offer garage doors on both sides, LED lighting and a safety package with airbags.
The results of the Motorhome Awards 2014 will be announced in December.
Buying A Luxury Motorhome With Travelworld Motorhomes
If you are interested in finding out more about Hymer, Chausson, Auto Trail or Niesmann and Bischofff motorhomes or parts then please get in touch with one of the Motorhome Travelworld team.
We have an impressive, combined experience which spans across the whole spectrum of motorhomes and RVs. From aftersales and servicing advice to new and used sales advice. Whatever your motorhome question; we are confident we can answer it. Please call us on 0844 880 4938.