Following on from the news about Hymer's range of semi-integrated motorhomes set to make an entrance in 2016, we can now reveal the show-stopping quality and precision that has gone into the integrated Hymer models for 2016.
Often referred to as a premium class of motorhome,  Hymer integrated motorhomes ooze high quality finishings and bountiful space internally, created by the seamless integration of the cab and interior living space. High levels of comfort are a theme throughout and careful attention to detail has been paid to safety features and energy efficiency; both in terms of engine effectiveness and interior power supplies.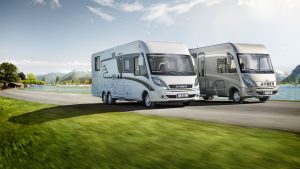 Hymermobil B-Class PL
The Hymermobil B-Class PL is a premium B Class motorhome, an integrated 3- 5 berth motorhome brimming with high quality design and comfort features. Size-wise, the length ranges from 6.55 m – 7.70 m; is 2.35m wide with a height of 2.90 m.
It comes with an elegant interior; designer layout and drivers and passengers also experience a smooth ride, thanks to the Goldschmitt springs that are fitted.
Models included in the Hymermobil B Class PL range are:
B 544 PL 3,120 kg 655 × 235 × 290 cm
B 568 PL 3,110 kg 699 × 235 × 290 cm
B 588 PL 3,160 kg 727 × 235 × 290 cm
B 594 PL 3,090 kg 699 × 235 × 290 cm
B 598 PL 3,140 kg 699 × 235 × 290 cm
B 668 PL 3,330 kg 759 × 235 × 290 cm
B 678 PL 3,250 kg 739 × 235 × 290 cm
B 704 PL 3,400 kg 779 × 235 × 290 cm
B 708 PL 3,400 kg779 × 235 × 290 cm
Features Of The Hymermobil B-Class PL
The features included in the PL are a double floor heating and additional heated storage compartment; a 12.5 cm thick double floor and a Fiat Multijet diesel engine, powered with 96 kW (130 hp).
There is automatic front air conditioning with pollen filter on the dashboard, providing an ambient temperature while on the road and a multi-zone cold foam mattress provides optimum comfort.
The Hymermobil B Class PL model has an AL-KO lightweight frame; GRP lightweight flooring and Seitz framed windows throughout. Heat-wise, there is a Truma CP Plus control panel which allows for central control of both the heating and air conditioning system.
The kitchen is luxurious with a solid work top material and window covering which offers lots of space for storing items. Swivel lounge seats upholstered in living area fabric – ideal for both driving and relaxing. The model has a fresh water capacity of 160 litres and grey water holding tank size of 140 litres which allows for more freedom and flexibility.
Hymermobil Exsis-i
The Hymermobil Exsis-I is a slimline 3 – 6 berth motorhome in the 3 ton class. Its size offers great manouevreability and huge flexibility to travellers but by no means scrimps on comfort and style. It measures 5.99m to 7.20 m in length, has a height of 2.77m and is 2.22 m wide.
Models in the Hymermobil Exsis-I range include:
Exsis-i 414 2,700 kg 599 × 222 × 277 cm
Exsis-i 474 2,790 kg 655 × 222 × 277 cm
Exsis-i 504 2,740 kg 620 × 222 × 277 cm
Exsis-i 524 2,760 kg 650 × 222 × 277 cm
Exsis-i 564 2,870 kg 675 × 222 × 277 cm
Exsis-i 598 2,890 kg 699 × 222 × 277 cm
Exsis-i 644 2,830 kg 685 × 222 × 277 cm
Exsis-i 678 2,920 kg 720 × 222 × 277 cm
Exsis-i 6883 3,850 kg 720 × 222 × 277 cm
Exsis-i 578 2,800 kg 675 × 222 × 277 cm
Exsis-i 588 2,900 kg 699 × 222 × 277 cm
The wheelbase is positioned on the Al-KO lightweight frame so that is provides equal weight distribution even when fully loaded. One of the many energy-saving features of the model is the LEDs which cut consumption by three quarters; this also provides a safety element as the LEDs do not get hot. Under the floor there are water tanks for fresh and waste water along with all the plumbing and wiring. The many hot air outlets on board mean there is an even distribution of warmth throughout the vehicle.
Insulation is considered throughout in the form double skin GRP floor and PU foam insulation to name but a few. There are skylights in the living room providing natural light and uniform lighting is supplied with LED spotlights.
A comfortable night's sleep can be had with the help from multi-zone cold foam mattresses that support all areas of the body as well as breathable mattress toppers for good ventilation. There are loud speakers in the sleeping and living area and wiring, sockets and an aerial are all factory fitted.
Hymermobil B-Class SL
The Hymermobil B-Class SL, another of our integrated motorhomes that accommodate 4 – 6 people. It has a 148 bhp engine and is built on a Fiat AL-KO chassis and comes complete with large rear garage, which has a loading height of 130 cm tall and 70 cm wide. The light weight frame of the AL-KO has the wheelbase which is ideally positioned so that weight of the body is distributed as evenly as possible.
It is 3.25m wide and 3.15 m in height with a length of 8.86 metres. The Hymermobil B-Class SL looks like a liner but has the price of conventional integrated motorhomes.
The Hymermobil B-Class SL models include:
B-SL 878 4,170 kg 886 × 235 × 315 cm
B-SL 898 4,155 kg 886 × 235 × 315 cm
B-SL 778 4,165 kg 853 × 235 × 315 cm
B-SL 7984,150 kg 853 × 235 × 315 cm
There are ceramic toilets in the bathroom and the cassette in the toilet is easily removable with an optional pump-out system. Several bikes and other pieces of equipment and luggage can easily fit in the back of the garage which can take up to 450 kgs in weight.
There is an Alde hot water and heating system in this model range which comes with energy saving heat exchanger. There is a front air conditioning system in the centre of the dashboard as well as onboard cruise control which gives a safe drive at a controlled speed.
In addition, there is an LED TV with 22 inch screen which is flat and lightweight.
Hymermobil StarLine S
The Hymermobile StarLine S is classed as a 4 berth premium integrated vehicle; it is 7.97 metres in length and measures 2.35 m wide and 3.07 m in height. Built on a Mercedes chassis the Starline S benefits from PUAL design as well as a GRP roof and floor.
Hymermobil Staline S models include:
StarLine 680 S 4,336 kg 797 × 235 × 307 cm
StarLine 690 S 5,300 kg 797 × 235 × 307 cm
Features of The Hymer Starline S
The stand-out features of the Starline S include; a 12.5 inch double floor, providing both storage space and under floor heating; a 160 litre jumbo refrigerator; large water tanks, offering flexibility and freedom while on the move and more seating is available thanks to the addition of a bench seat which sits next to the entrance door and is fitted with a three-point belt (available on special request). The mains supply of the Starline S is powered with a Waeco sine wave inverter and can be turned on sleep mode when not in use.
The Hymermobil B-Class is a premium, 4 berth, one of our integrated motorhomes which has been popular for over 30 years and is renowned as being the benchmark for integrated motorhomes. It has a spacious interior; is 7.50 m in length and 2.90 m wide. It has a solid construction throughout and a PUAL body shell.
The Hymermobil B-Class models include:
B-Class 698 3,200 kg
B-Class 678 3,220 kg
Features Of the Hymermobil B Class
The Hymermobil B-Class motorhome has a lightweight frame. The acrylic double glazing provides thermal insulation along with the help of the Seitz S7 framed windows and the double floor heating. In addition, 12.5 cm thick hot air nozzles sit between the upper floor surface and underfloor.
Natural light pours into the model thanks to the skylight in the living area and when the sun goes down the LED spotlights can be used when natural light has gone. There is a luxury, rotatable table indoors with a wooden frame with adjustable lounge seats that are upholstered in living area fabric.
Model range Hymermobil ML-I
A 4-5 berth integrated motorhome based on a Mercedes chassis, the Hymermobil ML-I falls into the 3.5 ton category. It measures from 6.39 m – 7. 80 m in length and is 2.90 m in height. The design is based on the semi-integrated M-LT design. It has an excellent safety and stability control package. The level living room is level throughout and there is a 142 litre refrigerator.
The Hymermobil ML-I Models
ML-I 540 2,935 kg 639 × 222 × 290 cm
ML-I 560 3,040 kg 699 × 222 × 290 cm
ML-I 580 3,015 kg 699 × 222 × 290 cm
ML-I 620 3,270 kg 780 × 222 × 290 cm
ML-I 630 4,200 kg 780 × 222 × 290 cm
Features Of The M-LI
Automatic brake disc means safety on the road is ensured throughout wet and rainy weather conditions
Anti-lock braking system (ABS) with traction control system (TCS)
Roll-over mitigation and roll movement intervention
Enhanced understeering control
Trailer stability assist
Adaptive electronic stability
Swivel lounge seats in living area fabric
Aguti Ergoflex pilot seas
Power package consisting of extra charger on exterior door locker/li>
Level floor throughout meaning no headroom is lost
7G tronic automatic transmission
Power package contains two batteries which are easily accessible
Brake disc wiping for brake pre-fill systems
There is a fold-down bed over cab, GRP roof coating, LED interior lighting and an LED awning light
Truma CP Plus control panel and Hymer multi-zone cold foam mattresses
Large garage with a loading height of 121 cm and GRP lightweight floor with insulation
Seitz framed windows
BAS – anti-lock braking system, electronic brake force distribution and hydraulic brake assist
Seven gears designed to prevent abrupt changes of speed and keep engine running efficiently
With the M-LI comes an extensive safety package as standard with ABS, EBD, and BAS.
Hymer DuoMobil
The Hymer DuoMobil model is another of our integrated motorhomes which has been specifically designed for two. It has an AL-KO lightweight frame with a 148 bhp Fiat Ducato Maxi engine and an optimally positioned wheelbase for perfect weight distribution.
For a comfortable night's sleep there are multi-zone cold foam mattresses and disk-spring bed frames. Onboard, there is a fold down bed, two single beds and a separable dressing room and bathroom. A skylight in the living area welcomes in lots of daylight and the LED spotlights are at the ready for when the night falls.
Externally, there are fog lights fitted as standard, a GRP underbody which provides protection against weather and stone/grit damage. Onboard cruise control ensures comfortable and safe drive with a controlled speed and there is also room for a fourth seat to be added.
At Erwin Hymer Centre Travelworld, we have a range of Hymer integrated motorhomes for sale, both new and used. To discuss any sales queries with our experts at Travelworld, contact us today.