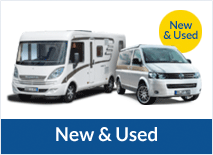 One of the country's leading motoring organisations has offered motorhome driving safety tips. encouraging motorhome drivers and caravanners to share the driving on long journeys to ensure road safety.
The Institute of Advanced Motoring says that long distance drivers en route to holiday destinations should switch with their partners where possible so that all drivers can be as alert as possible. As various bank holidays, Easter breaks and warm weather join together to create idyllic camping conditions, there are more and more people heading out in their motorhomes and it is crucial they adhere to safety advice.
Shared Driving Safety Tips
Below are some of the IAM's top motorhome driving safety tips for long journeys:
Where possible, drive with another person capable of driving the vehicle
Schedule a break once every two hours
If you are feeling tired pull into the next service station as soon as you can and take a rest
Plan your journey well and include rest stops
Make sure you have plenty of fluids while on your journey
Night driving can exacerbate drowsiness, try to avoid night driving as there are more visibility risks also
Peter Rodger, IAM chief examiner, said: "If you're embarking on a long journey, get a good rest and use this advice to help make sure you're alert throughout."
Travelworld Motorhomes
The team at Travelworld Motorhomes has decades of experience in motorhoming and as such, has a mine of information on all things to do with motorhome safety and motorhome maintenance. We can tell you how to check your motorhome tyres before taking to the road; how to effectively clean your refrigerator and how to give your motorhome a thorough spring check before your venture out on your travels. Please get in touch with our aftersales team on 0844 880 4938 for more information and advice and to find out more about the service packages we offer.