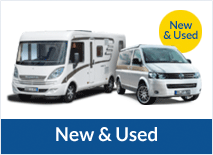 A concept caravan from Eura Mobil is set to make its UK debut at this year's Motorhome and Caravanning Show at the NEC in Birmingham.
Having already made an appearance at the Dusseldorf Caravan Salon, this chalet style motorhome has been given the moniker of 'Rolling Mountain Hut'.
The self-defining name serves as a strong hint at the Alpine lodge theme and there are many other lodge-style additions to the model. Fixed hanging lampshades ( never seen before in an RV), natural oak wood flooring and walls, a ceramic basin and polished chrome taps in the bathroom are all features which work alongside renewable wood kitchen countertops and felt seating. Jointly, all these characteristics provide a strong echo of a snug mountain cabin.
Designed For Everyday Use
The Rolling Mountain Hut forms part of Eura Mobil's SB 670 line has been engineered to remain durable in a range of varying weather conditions.
What Is The Caravan Salon Dusseldorf?
The Caravan Salon in Dusseldorf, where the Rolling Mountain Hut first appeared, is one of the world's leading motorhome and leisure vehicle shows. The annual show often plays host to some of the most pioneering and unique motorhome designs and ideas.
There were over 175,000 visitors at this year's event. Director at Messe Dusseldorf GmbH said: "Despite the tight economic situation trade visitors and caravanning enthusiasts from all over the world come here to meet their business partners and gather information on innovations."
Travelworld Is Exhibiting At The Motorhome And Caravanning Show
Having already made its first impression on the motorhome market, the Rolling Mountain Hut will also be making an appearance at the UK's Motorhome and Caravanning Show in October.
The team from Travelworld team will also be at the show at Birmingham's NEC in October, and we have an impressive line-up of luxury motorhome models to show you.
Our team of experts will be on hand to tell you more about our luxury ranges of motorhomes including well-known premium brands like Niesmann and Bischoff, Chausson, Auto Trail and Hymer.
We will be there on stands 10 – 71 to offer our advice and expertise on the latest models available.
All Your Motorhome Questions Answered At Travelworld Motorhome
Our collective knowledge of the motorhome industry allows us to inform prospective and existing customers about everything they need to know about motorhomes. From insurance and finance queries, to the latest security features and tracking devices on the market.
Our aftersales team can offer advice and tips on anything from how to clean your air conditioning unit to preparing your motorhome for the winter months.
Our sales team has a vast shared product knowledge of some of the most well-known, high-end brands of RV available. We can also tell you more about our impressive range of used motorhomes we have available.
If you would like to know more but don't want to wait until the show in October please get in touch with our sales team on 0844 880 4938.