Scottish Wild Camping Explored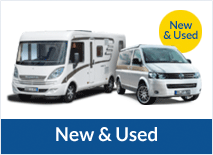 Wild camping in Scotland is enjoyed by a profusion of motorhome owners every year.
Scotland has become well known for welcoming people into its striking and open countryside with a great deal of freedom. If you are considering wild camping with your motorhome in Scotland then there are a few things worth remembering:
Scottish Outdoor Code
The Scottish Outdoor Code came into effect in February 2005 and is a set of rules which exists under the Land Reform Act 2003. The code requires that all individuals exploring the countryside in Scotland should be responsible for themselves.
The rules apply to those taking part in horse riding, wild camping, canoeing and mountain biking. We would advise taking a look at the code before you go wild camping in Scotland.
What to remember when wild camping in Scotland
You can camp almost anywhere in Scotland but it is important to take note of the following to ensure you are acting in accordance with the rules.
Maintain respect for people living close and for animals or livestock kept in grounds close by
If you have pets you should keep them under control
Do not leave litter or waste when you leave
Be respectful of wildlife
Don't outstay your welcome – leave early
Do not have camp fires
In return, those in charge of maintaining and managing the outdoors should also respect the access rights of campers and appreciate that they have rights of way access.
The relationship between land managers and wild campers is particularly important when deer stalking season commences. Alternative access should be made available by land owners.
There are some exceptions which include parts of the Loch Lomands National Park following anti-social behaviour involving litter and alcohol.
Wild camping tips
If you like the idea of wild camping in Scotland then here are a few simple, practical tips to ensure an enjoyable trip:
Spring and summer seasons in Scotland are the best. Weather can be unpredictable so make sure you have a Plan B if the weather turns
The Murray Coast and other areas in the Scottish Highlands are popular destinations for wild campers
Try to find somewhere where there is lots of things to do close by, especially if you have children
Like all good campers you should have a map with you and plan of what you want to do
If you fancy somewhere remote then remember to be practical and take with you necessary items like food and warm clothes
Camp on high ground and stay discreet
When finding an area to go to the toilet choose somewhere sheltered close to water and near other camping areas. Dig a hole and place sand or soil back over once used and don't leave toilet roll there, discard this with the rest of your rubbish