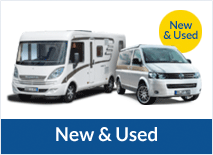 Chausson has added another string to its bow in the form of the limited edition, Cult Serie 510 model.
The new model forms part of Chausson's best selling 'Best Of' range and it sets itself apart from its competitors with an attractive price, comprehensive interior specification and attractive new graphics.
What Does The Cult Serie 510 Offer?
In terms of driving experience, the Cult Serie has a lot to offer the discerning driver. Cruise control; electric de-icer rear view mirror; 130 HP engine and a double air bag are all available in this model. For comfort, drivers are treated to air conditioning inside the cab and there is also a panoramic skylight.
The model is also built resiliently with GRP walls and an anti-hail roof; the floor is 63 mm in thickness and the roof is 54 mm thick. A colour coded front bumper; wide tracker rear axle also feature and you can even keep your heating on while you are on the road. For peace of mind, you are also given a five year water tightness warranty.
The Best Of Range
The Best of range has proven to be a firm favourite with motorhome lovers in the UK and abroad. The Best Of C514 can sleep up to five and features the EASY BED adjustable garage and ultra compact overcab; the six berth C626 has full length bunks and a wide track rear axle. The low profile model in this range, the 510 is less than six metres in length and comes equipped with a maxi bathroom. For a central bed and more roomy option in the Best Of range, there is the 718 EB which comes with an EASY BED and real bicycle garage.
Buying Your Chausson Cult Serie At Travelworld Motorhomes
At Travelworld Motorhomes we are excited to have in our showrooms, this new and inspiring model from Chausson. If you would like to know more about it then please come and visit us or speak to one of our sales team on 0844 880 4938 and we will be happy to help you.