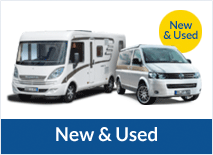 Cleaning and safely storing your motorhome over winter are two of the essential jobs every owner must do. There is nothing worse than the eager anticipation of uncovering your motorhome after winter, only to find there is repair work needed that could have been easily prevented. Read more to find out the importance of motorhome winter storage.
Undertaking a few simple care and maintenance jobs before the winter months set in will pay dividends when you take to the road in Spring again.
It's always a good idea to get a motorhome Winter check at an approved workshop but if you are confident in your abilities, here are some winter storage and cleaning tips to bear in mind:
Cleaning Your Motorhome Before Winter
Thorough body cleaning and waxing on bodywork is advised before putting your motorhome away. Make sure you remove any green mould from the outside, but be careful if you are using a pressure washer as the force of it can damage more susceptible parts of the bodywork.
Internally, you should set time aside to thoroughly vacuum and clean. Remember to leave your fridge door ajar after cleaning, other internal cupboard doors should also be left open. It's also a good idea to leave fixed beds in the open position and put cushions in an upright position to encourage air circulation.
Removing all signs of crumbs from underneath furniture will help keep pests at bay. Also, if you have spring mechanisms in your windows then leave these open as they are more prone to damage if closed.
Storing Your motorhome Over Winter
When it comes to storing your motorhome there are a few things you can do as harsh winter weather can do a lot of damage. Many opt for storage in their own garages; outside their homes or in storage compounds and campsites.
If you are storing your motorhome outside your house then make sure you don't leave it somewhere where it is vulnerable to leaves and bird droppings landing on it, as this can cause corrosion to the outer bodywork.
If you are storing it in an outside compound then ensure you ask questions to the owner beforehand; like what are the policies concerning gas cylinders inside your motorhome and what measures are taken to control pests.
Motorhome storage covers can be purchased in varying degrees of quality. The main things to ensure are that yours is breathable, soft and there is nothing to damage the exterior paint or bodywork. It's an idea to clean your vehicle externally, ridding it of any grit or dirt that could scratch it and a wax can also help towards protecting the outer layer.
Winter Advice From Travelworld Motorhomes
If you would like more detailed advice on caring for your motorhome in winter then please get in touch with our aftersales and servicing team on 0844 808 4938.