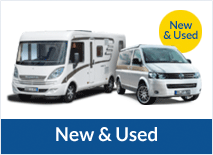 Practical Motorhome Magazine is again launching its annual motorhome Owner Satisfaction Survey in a bid to unravel some interesting facts about modern motorhomers and what they need, expect and desire in a motorhome in 2014.
The survey, which is conducted in association with leisure insurance company, Coast, is the only one of its kind which collates the entirety of its data from actual motorhome users and their experiences of both new and pre-owned motorhomes.
What Motorhomers Really Want
Starting life 10 years ago, the publication's market research offers an insight into what motorhome customers are really after, as well as revealing who the best motorhome dealers and manufacturers in the business are. The readers of Practical Motorhome, who have owned their RV or motorhome since 2010, have been invited to offer their thoughts and opinions on everything to do with motorhome ownership, the survey is also open to online to website visitors and there is a £250 Marks and Spencer voucher up for grabs.
Previous Premium Brand Winners
Last year's winners of the survey, which were given a percentage score, included some of Travelworld's top brands. For the new motorhomes category, Niesmann and Bischoff received 97%; Chausson attained 96 %; Auto-Trail received 88% and all were placed in the Gold Award Winning class.
In the pre-owned motorhomes category Auto-Trail and Chausson featured again with 91.7 % and 89.2 %, respectively. Travelworld also scooped a Silver Award for winning supplying dealers.
The study also found that the people who responded to the survey made up an even distribution across the country and the geographical area of Middle England was the place where most new motorhome buyers resided. Scotland also emerged as a new area for new motorhome purchases.
Have Your Say
The results from the Practical Motorhome survey will be published in January in the form of a league table. We would be delighted if any of our customers wanted to join in the survey and have their say about the brands we offer or the service they have received. If you would like to know more about the survey then please get in touch with one of the Travelworld team on 0844 880 4938.
Visit the survey at http://www.practicalmotorhome.com/survey