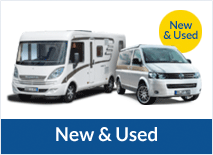 The Mini campervan marque is synonymous with cool car branding and enjoys iconic status, but can the makers at Mini extend this success with motorhomes?
Luxury Mini Campervan
Well, if the new luxury mini campervan is anything to go by, then they are certainly on the right track. Dubbed the world's smallest campervan, the new Mini camper has a host of quirky and convenient features to whet the appetite of even the most steadfast 'anti-camper'.
Don't get too excited though. Mini says the creations will remain concepts for now and have not been put into production. The prototypes have been created to demonstrate the innovation and dynamic thinking of its engineers.
Mini Campervan Concepts
Not happy with just a campervan, the manufacturers have produced three camping concepts with a variety of original features.
The Clubvan camper is based on Mini's Clubman and designed for those taking an impromptu weekend trip. It has a kitchenette and fridge with enough room left over to sleep one. There is a water tank underneath the floor of the vehicle, a TV, heater and glass roof (for star gazing). There is no toilet on board but there is a showerhead if required
The Countryman Camp is a four wheel drive, making it ideal for rugged terrains. It comes complete with bike rack and a roof-top tent for those who want a spontaneous stop over
The Cowley caravan is a towable caravan made for two people and is designed to be towed by a Mini. There is a gas stove and a water tank, TV and DVD player. It weighs around 300kg and is a nod in the right direction for fuel efficiency and lowering the carbon footprint. The tourer is named after the factory where the model Minis are still made
New Mini Campers – Home From Home For Fun Loving Travellers
Mini says its fleet of concept campers are designed as a 'premium home from home' for fun loving travellers.
A spokesman from Mini said: "The trio each reflect different aspects of the rise in popularity of camping and festivals, creating a choice of premium home-from-home options for the enthusiastic traveller."
Looking To Buy A German Motorhome?
If you are looking to buy either a GermanMotorhome, why not browse our range of new and used campervans and motorhomes for sale on the Travelworld Motorhomes website, or visit us at our Telford, Shropshire showrooms for a feel of the real thing? We are a leading dealership for Carado, Dethleffs, HYMER, and Niesmann + Bischoff and also stock a large volume of used motorhomes for sale.