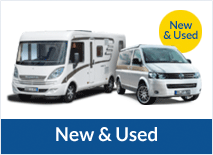 The latest RV news shows that the market is booming thanks to a blooming summer. In fact, figures reveal that the overall motorhome market has seen a significant increase in popularity.
The Recreation Vehicle Industry Association reports that there was a 33% growth in the first two quarters of 2013 compared to the same period in the previous year. RVIA also states that the Class A motorhome market has grown by 32 % in the same period.
Industry experts are putting the growth down to some of the glorious weather experienced this summer when temperatures reached highs not seen since 2006. Many campsite owners saw record numbers of visitors last year and put some of the success down to the flexibility that a motorhome holiday offers. For example, holiday makers, to a large degree, can travel where they want and when they want; they can be close to attractions and can also find peace and quiet relatively easily.
Surge In Used Motorhome Sales
Used motorhomes and caravan sales have also seen a significant rise with many specialist motorhome websites reporting a growth in traffic during the months preceding the warm weather in May and June.
Buying Your RV Motorhome From Travelworld RV
If you are looking to join the masses of motorhome enthusiasts, all ready for next year, then it is worth doing some research now so you can get exactly the right type of RV for you and your family.
Whether it's an economical and compact van conversion for a couples holiday in France, an American RV fit for a five week holiday for a family of four or a spontaneous getaway vehicle parked in your drive ready for the sun to break through the clouds, we are confident you will find what you are looking for at Travelworld Motorhomes.
We sell a comprehensive range of new and used motorhomes all available to be viewed at our impressive showrooms or online.
With every motorhome we sell we include a HPI check, an engine service and six months' warranty along with many other additions. If you would like to know more about what we offer with our motorhomes, either used or new, then please get in touch with one of the Travelworld motorhomes sales team today on 0844 880 4938 .