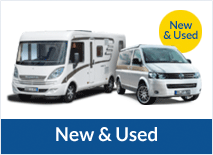 Understanding how to maintain motorhome slide-out seals is something a lot of motorhome owners are interested in as popularity in slide-out mechanisms rises.
Slideouts offer extra space usually in living rooms and sleeping areas and can be operated either through hydraulic, motor-driven or electric systems.
All slide outs connect via inner and outer rubber seals which are either a bulb seal or a wiper seal. The former, resembling a bike tyre and the wiper seal looking like the rubber from a windscreen wiper blade. Both these seals are important elements in preventing dirt, wind and water from getting into your motorhome.
Why is it important to maintain rubber slide out seals?
It is important to know how to maintain slide out seals as these are one of the leading causes of water leaks in motorhomes that have slide outs. Regular preventative maintenance is imperative so they don't become a problem.
The most important part of rubber seal maintenance is to ensure they are lubricated. This should be done approximately one to two times a year.
See below some basic methods of lubricating the seals designed to help you learn more about how to maintain slide out seals on your motorhome.
One option is to use baby powder and a dry cloth to slide over the full length of the slides. This creates a thick coat over the seals and helps to prevent perishing in cold weather
Make sure you treat the outer gasket slides with the powder, if this is your chosen method of maintenance of your rubber seals. Add more powder as and when needed
When you have finished dust off the excess powder. This will stop it from sticking to the inner wall and the paint on the outside edge of the slide
An alternative to baby powder is slide out rubber seal conditioners or special gasket and slide lubricants which can be purchased from stores like Halfords
Rubber rejuvenators like Armor All or Slide out Rubber Seal treatment from Protect All are a popular and inexpensive way to treat the seals
Spray on the formula ( in most cases you can leave the lotion to dry
Always make sure you have washed the rubber seal thoroughly before you apply any kind of lubricant or powder
Finally, make sure there are no gaps in the bottom of your rubber seals by ensuring the joints are fixed together. You only need a small space for a mouse to enter through the seals.
Looking for New Motorhomes or Camper Vans For Sale?
Travelworld have a wide range of vehicles in stock from various manufacturers. These include Hymer, Carado, Niesmann + Bischoff and Dethleffs motorhomes. Choose from new and used motorhomes and camper vans. Why not visit our stock of German motorhomes by browsing our website or visit us at our Stafford showrooms to get a feel for the real thing?