What did this year's Caravan Salon uncover for our Hymer Insider, Harry Price? It's billed as one of the world's largest caravan and camping trade fairs; a place where concepts are unveiled and new models are revealed.
We take a look through the eyes of Erwin Hymer's Centre's, Harry Price. Currently undertaking a year's secondment at HYMER HQ, Harry gave us the lowdown on new models, new concepts and what customers can expect with the new partnership between Erwin Hymer Group and Thor Industries.
How was the show?
Great! Totally different this year as I'm usually only there for a day – it was quite intriguing to be there with my motorhome 'dealer hat' on. It's all incredibly fast-paced and busy. Literally, everything you see at the show (HYMER stand in particular) has been fastidiously designed and considered by the marketing department, I guess just like the processes the HYMER brand motorhomes go through – every detail is thought through.
Can you tell us what you found out about the new models for 2020?
One of the biggest reveals at the show was the new Exsis model range, which is built on a lighter chassis. It was also interesting to see more Mercedes models included in the campervan ranges, including the Free S600 which is based on a Mercedes Sprinter chassis, in contrast to its staple, the Fiat Ducato chassis, its pop-up roof and two rear travel seats make it ideal for four people. Also on display was a new model in the form of the T-Class S, fitted with diesel heating and a 152-litre fridge as standard, it allows for greater freedom of travel away from the usual services, and to ensure the noise isn't an issue, there is a noise-abating system available in the furniture as an option.
And it was also announced that we will no longer be hearing about 'HymerCar' as this name has now been made redundant, making way for 'HYMER Motorcaravans' and 'HYMER Campervans'.
What else was unveiled at Caravan Salon?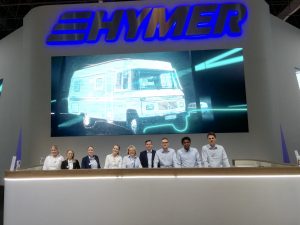 It was interesting to see some of the concept creations by all of the brands at Caravan Salon. For example, during the press conference with Bob Martin (CEO Thor Industries) and Martin Brandt (Erwin Hymer Group), along with Christian Bauer CEO of HYMER, the Vision Venture Concept Car was unveiled. The result of a collaboration with BASF, the largest plastic manufacturer in the world, the concept was produced using innovative material technology by BASF. It's built on a Mercedes short wheel base chassis and features an inflatable pop top roof, rear opening door and very interesting interior layout. Bauer also unveiled the new BM-L 880 which is a 9m tag axle HYMER on the Mercedes sprinter chassis – this seemed to gather a lot of attention. Carado also had a very interesting concept motorhome too, one that includes a floorplan that I think will prove popular in the UK.
And what can customers expect from the new partnership between EHG and Thor?
It's only seven months after EHG was acquired by Thor so it was good timing to present details about the joint vision of the brand and for customers. This includes three main areas,
social responsibility, digitalisation and innovation. Highlighted was the first, production-ready plug-in hybrid motorhome, the Globevan Hybrid from Dethleffs and the new, latest brand, CROSSCAMP was mentioned and how it's making its mark connecting customers to dealers quickly, using social media.
What's next for you at HYMER HQ?
For the HYMER marketing department now begins preparation for the autumn shows, these include preparations for shows in Switzerland, smaller German shows, Austria – as well as assisting regional EHG offices with their own shows across wider Europe and beyond.
For me, I have been focusing on the NEC show and will also be there for the entire show on the HYMER info desk
There are also mid-season updates and additions to the ranges – some of these may be seen at future shows and possible the Stuttgart shows. Although these are very much under wraps!
And finally…did you manage to speak any German at the show?
Ha! Yes, I did indeed! I've never really done German as a core subject, only as part of my business and economic degree, so it was a bit of a baptism of fire…but honestly? It's the best way to learn! I was working on the information desk, so I HAD to speak German and it's good to know I can pretty much hold a conversation and get by and it's helped improve my confidence with the language massively.