In a continuation of his reports back from his secondment at HYMER HQ, Harry Price tells us about the exciting new Niesmann+Bischoff Family Flair, a prototype we can look forward to in 2020….
So, what's this about a new Niesmann+Bischoff Family Flair model?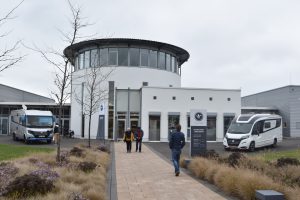 It's an interesting new model called the Niesmann + Bischoff Family Flair, which was showcased at the N+B Factory event in November. It's got a progressive new floor plan prototype, which includes an island kitchen configuration with rear lounge that can be used as a children's play area and converted into a bed.
There's also a very clever walk-in wardrobe concept, which includes a suspended wall that slides across the wardrobe area to reveal a full chest of draws on the opposite side. The bathroom also has a full sliding wall enabling a completely separate shower – it's pretty James Bond!
When can we see it?
It will be available to order at the Düsseldorf Caravan Salon 2020!
Who's it for?
The Niesmann + Bischoff Family Flair floorplan was built specifically for the family market and has been tried and tested by N+B's own managing director, Huber Brandl, who took the vehicle on holiday with his family to test the floor plan and see if any improvements could be made.
Did you go on the factory tour?
Of course! It's a really fascinating place to visit, I'd recommend any N+B enthusiasts take a trip if they haven't already. It's a brilliant way to see almost all floorplans in one place while you're touring and it's handy to know there's a small service centre there if you need to book in while you are on your travels.
What can you see on the tour?
The factory is relatively small but this enables it to produce highly customisable vehicles of unbelievable precision and quality. On the day of the tour, we were able to see (although production was halted over the weekend) the production stages of a Flair, the largest liner model based on the Iveco chassis. It's really intriguing to see the elements involved in producing such a large and complex vehicle, from the initial stages which just a bare chassis.
Also…there's a fantastic party in the evening! When I was there, there were around 400 guests and customers from across all corners of Europe – all enjoying a live band and plenty of German food and drink!
Where is the factory based?
It's based in Polch which is the Mayern-Koblenz Region, about four hours from Bad Waldsee where HYMER is. Outside, there's free camping places for customers, although not a huge amount, but there are electric hook ups and water.
Can anyone go on the tours?
Yes. The factory weekend is held once a year in November. The tours are held throughout both Saturday and Sunday in a range of languages. On the English-speaking tour, there were about 15 customers from England, with Niesmanns of all ages.
When is the next tour?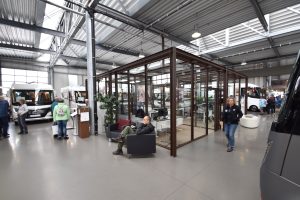 The dates for next year will be announced later in the year, customers will be able to speak to any of the salesman at Erwin Hymer Centre Travelworld about this. We always send a salesman to attend and have done for many years – it's one of the best ways for them to learn about the product directly at the factory, and allows an even further understanding of the vehicles.
It' also the perfect opportunity to speak to more Niesmann+Bischoff enthusiasts we might not come across every day.
If you're looking for a large motorhome to suit your needs, get in touch with our sales team who can take you through our range of new and used motorhomes. We also have a range of new campers for sale.