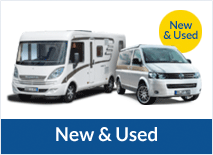 As an important part of maintaining your motorhome or camper van, it is important to consider getting a motorhome air conditioning service and regularly clean the system. Although many motorhome owners may choose to maintain and clean their air conditioning systems themselves, we recommend using a professional electrician for servicing requirements or issues.
Often, moths can build nests or development of mould and grime can reduce the efficiency of your air con system. At Erwin Hymer Centre Travelworld, we have put together a step by step guide for cleaning your motorhome air conditioning unit at home.
Cleaning The Air Conditioning System Yourself – Step By Step
Remove the outside cover on top of your vehicle (the calling)
This may involve using a screwdriver to remove any screws
Remove any debris or blockage
Be careful when working on the roof of your motorhome. Watch out for pools of water on the top which you can easily slip on. Wear safety goggles if you have them as working with compressed air can be dangerous if it gets in your eyes
The air conditioning unit will also need cleaning inside too. Make sure the filter and the louvres are cleaned using a soft bristle brush
Hidden Bacteria In The System
If there is a nasty odour coming from the air vent this can be bacteria which has set in. This bacteria is dangerous as it can spread viruses. This often happens when a motorhome has been stored away for winter and can potentially become an ideal candidate as an abode for bacteria and a potential virus carrier. Get rid of this by leaving an air con system cleaner aerosol connected. The aerosol connects to the air con unit and draws out the contents via the vehicle's ventilation system.
In addition you should allow your motorhome air conditioning unit to run approximately every two weeks even if weather conditions do not demand it. This will keep the ducts clear of any bacteria which may start to settle.
Getting your air conditioning checked and serviced with the Travelworld Service Team
If you feel there is a problem with your air conditioning unit (or generally want to do a full check on your vehicle's system), that you don't want to tackle yourself then our Service team will be more than happy to help.
At Erwin Hymer Centre Travelworld, we have air conditioning test equipment which will check for leaks and pressure levels which can often be a result of broken pipes or seals. Problems like these can often stop your unit from cooling the vehicle properly.
If you are considering getting your motorhome air conditioning style checked or think there could be a problem, then please get in touch with the Travelworld Motorhome Service team today. Give us a call on 0844 880 4938 or make an enquiry here:
Looking For A New or Used Motorhome?
Here at Travelworld Motorhomes we stock a wide range of new and used motorhomes. Why not view our stock online or visit our motorhome and campervan showroom in Stafford.