That's right. We are delighted to let you all know that we will be hosting an unmissable Grand Opening Event to celebrate our recent move to our new showroooms site at Creswell Park in Staffordshire!
We are already up and running and it has been a hectic few months getting everything in place and all ready to roll out the red carpet to our trusted customers and new visitors!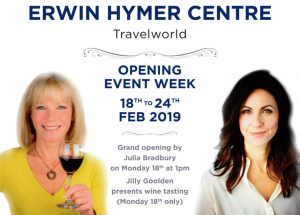 The week-long event will start with an official launch day on Monday 18th February which will feature outdoor enthusiast and TV presenter, Julia Bradbury and renowned wine critic and TV personality, Jilly Goolden. Jilly will be offering wines for guests to taste and sharing her knowledge of some of the best wine regions in Europe to visit in a motorhome.

Pro mountain bike racer, Scott Beaumont, nicknamed, 'Boom Boom' will be performing stunts and chatting to guests on Saturday 23rd February. Super car BAC Mono will be on display and interactive showroom tours will be conducted by Travelworld representatives every day during the event. Competitions and prizes for all the family will be on offer and guests can preview a host of new motorhomes. Refreshments will be served daily.
Why not call in for:
Week-long FREE refreshments including morning bacon sandwiches, hog roast lunch and tea and cake afternoons
Music and entertainment every day
Over 100 stunning 2019 Erwin Hymer Group products on display
Guided tours of our new state-of-the-art facility running daily
Throughout the week and up until the 24th February there will be entertainment and daily tours of the new site.