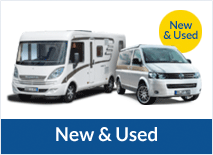 Getting your motorhome or camper van weight correct is very important with more and more motorhome drivers being stopped to check weights. Failure to get it right can jeopardise the safety of you and your passengers and at the very least you could end up with a hefty fine.
Braking efficiency, handling and performance can also be affected with incorrect weight balances so getting it right is an advantage for all.
There are many people who are unwittingly breaking the law because their motorhomes are too heavy and in some cases, insurance companies are refusing to pay out if the individual did not ensure the weight of the vehicle was correct.
Each motorhome has its own set of weight limits specific to it. When you buy your new motorhome read through the weight calculations in your handbook and make sure you understand the details.
What Do The Technical Terms Mean?
Firstly, don't be put off by the perceived level of mathematical ability involved in working out your motorhome weight. Simply remember that when your motorhome is made in the factory it will be a set weight. You cannot do anything about this weight but the additional weight you add to it, yes you can.
Below are some terms which will help you understand more about the weight limits and what they mean:
MIRO is an abbreviation for Mass Running Order and is sometimes referred to as unladen weight. This is the weight of your motorhome as it was driven straight from the factory where it was made. The weight takes into account standard equipment fitted e.g. refrigerator as well as the average weight of a driver (75 kg) a full tank of fuel
MTPLM this is short for Maximum Technically Permissible Laden Mass and is also known as Maximum Gross Vehicle Weight (MGVW) or Maximum Authorised Mass (MAM). This figure will be stamped on a plate within your motorhome home, either under the bonnet or inside the driver's door. This is the weight you are allowed to add on to your MIRO and still be legal to drive
The term payload refers to the additional weight you put on your motorhome and includes passenger, equipment, leisure batteries, food, solar panels
In addition, weight needs to be evenly balanced on a motorhome to make sure it is safe to drive. Over loading the rear end will cause an inbalance and the front to be lighter than the back, therefore, front and rear axle loading is very important.
Weigh Bridges
Weigh bridges are available if you need to check your motorhome weight. Most places require a small fee for you to weight the whole, or parts of your vehicle. Remember to make sure your motorhome is weighed exactly as you are going to take it.
It's also advisable to weigh regularly as it is surprising how much those books, batteries, odd and ends that you bought hike up the weight.
What to Lose if I am overweight?
Here are some tips if you are taking your motorhome away for the first time:
Only take food that you will need immediately, the rest you can buy when you arrive. Food cans, big bottles of fluid add significant weight
Gas cylinders also take up 'weight space'. If you need to take two, take one filled and leave the other empty so you can fill it up when you get to your destination
Take only one leisure battery
Empty your grey waste before leaving and don't take fresh water with you
Plastic crockery and cutlery are the bedrock of camping plus they help to reduce weight