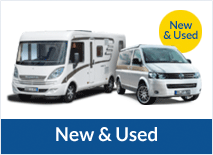 If it's the choice and diversity you are looking for in a motorhome then look no further than the Chausson Flash range.
New for 2014, there is a large and varied choice of layouts in the traditional Chausson low profile models; all of which are available in the Flash finish.
Features Of The Chausson Flash Range
Below are some of the features of low profiles in the Flash finish:
With the French-style 3 berth Chausson Flash 515 you are treated to plenty of storage in its less than 6 metre length measurement; atmosphere LEDs floor lighting; cab seats with double arm rest; panoramic skylight and a 5 year warranty.
The Chausson Flash 616 is a family motorhome that sleeps and seats 5 people. There are 2 bunk beds; a roof bed that hides in the roof space creating a spacious living area; double glazed windows; on the road heating and electric de-icing rear view mirrors.
The Chausson Flash 625 is ideally suited to a couple wanting a little extra space. Inside, there is a separate shower stall; rear bed; L shaped kitchen; TV sliding plate and insulated curtains to shade the cab area. It is less than 7m in length and features a wide track rear axle, ignition interlock system and ABS.
Aspects of the 7.39 m Chausson Flash 717 include plenty of storage space, large twin beds, an extendable double bed; an anti-hail roof; double glazed windows; height-adjustable driver and passenger seats and a 175 L refrigerator.
Other models available in the flash finish are the Flash 510, 514, 615, 718 EB and the Flash 618. These models are also available in the Welcome finish.If you would like more details on any of the Chausson models then please get in touch with the sales team at Travelworld Motorhomes.
Why Choose A Low Profile Motorhome?
Low profile RVs are versatile and suit the needs of both couples and families. Chausson's choice of 11 layouts means there is something for everyone and you have the added luxury of being able to choose from two finishes.
You can select whether you want your low profile with or without a roof bed, which out of the three furniture colours you would like, your chosen body colour, interior fabric colour and type of furniture.
Buying Your Chausson With Travelworld Motorhomes
At Travelworld Motorhomes we specialise in only the best German motorhomes, including: Carado, Dethleffs, Hymer and Niesmann + Bischoff. If you would like to know more about our range of motorhomes or parts, please get in touch with our knowledgeable sales team.