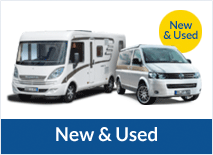 2014 is set to be an exciting year ahead with a flurry of new premium brand motorhome models being released. This year, Chausson has set a new precedent in choice and diversity with its new Chausson Welcome range.
Available in 11 different layouts, the Chausson low profile line-up can be tailored further by choosing two different finishes, one of which is the Welcome finish.
Highlights Of The Chausson Welcome Range
The Chausson Welcome 514 features an L shaped lounge; wardrobe lighting; reverse sensor with cab beeper; central locking and cab seat covers. Design-wise there is an entrance cloak room and a lighted midway panel in the kitchen.
If you are looking for a motorhome designed for two with plenty of space then the Chausson Welcome 510 could be for you. It features an electric powered bed that perches in the roof space during the day, allowing for maximum living space, it then folds down to a double bed in the evening. The Welcome finish offers automatic entrance cell lights; indirect lighting in the kitchen and an AES refrigerator.
The Chausson Welcome 615 offers a favourite layout for couples who occasionally like to invite guests. Anchor points in the garage, Seitz windows, lighting in the wardrobe and 12v fan skylight in the galley and living area all feature in the 615.
The Chausson Welcome 618 features optimum space, a central bed which can slide up against the wall to create more space, a separate shower and an exclusive exterior design.
Chausson Welcome 718EB has one of the best-loved layouts with a central bed, L shaped kitchen and separate shower. The bed is height adjustable to form a storage area.
Buying Your Chausson Motorhome With Us
Here at Travelworld we sell a wide range of Chausson motorhomes, both new and used.  If you are considering the purchase of a new motorhome or are in the midst of doing some fact-finding to find the best motorhome to suit your needs, then please get in touch.
We have a superb range of premium brand motorhomes in our showrooms, all available for you to browse around and find out more about. Choose from a variety of models from other premium brands including Niesmann and Bischoff, Hymer and Auto-Trail.
With every motorhome we sell, we provide a 12 month MOT; gas safety inspection; full chassis inspection; HPI check, damp test and more. Please call us on 0844 808 4938 for more details about our motorhomes.