Ultimate Care Motorhome After Sales Plan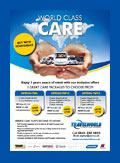 Travelworld Motorhomes is proud to announce the launch of its 'Ultimate Care' after sales service plans. This will allow Travelworld to offer complete piece of mind to its customers when purchasing their next new or used Motorhome.
CALL 01785 878787 OR
Send us an enquiry
The plans are defined depending on the age & style of the Motorhome and can include 3 years warranty, 3 years habitation service, 3 years engine/chassis service and 3 years MOT! The service plans are also available on brand new Motorhomes allowing customers to have a defined service schedule in the first three years of ownership – which is essential to keep all factory warranties valid.
NCC Approved Workshop
Travelworld are extremely proud to have recently received NCC Approved Workshop Scheme (AWS) and have approved factory trained technicians from the brands they represent. Travelworld have long offered a complete 'one stop shop' for all Motorhome related service requirements including fitting of accessories, electronic trouble fault finding and commercial ramps to fit the largest of RV's.
What Ultimate Care Offers To Motorhome Buyers?
The Ultimate Care is very exciting, it offers something that has been around in the motor trade for many years but very rarely on offer in the Motorhome industry and certainly never before seen in the UK RV industry". "These service plans offer customers the ability to wrap up the future services of their new pride and joy during the initial purchase, and means they can bring the Motorhome back to just one destination for all future service & maintenance requirements" Said Ross Edwards Travelworld Managing Director.
We'd Love Your Feedback On Our Services. We appreciate customers providing us feedback on the service that we provide to them. Why not visit the Approved Workshop Scheme website and tell us what you think. You also have the chance to win £150.00 for providing feedback via AWS. Go to the AWS Customer Satisfaction Survey to have your say.
CALL 01785 878787 OR
Send us an enquiry