A true HYMER legend, the Van was unique in its day as an affordable, compact but luxury motorhome built with German HYMER quality
HYMER Van
The Van S stands for driving enjoyment, manoeuvrability and above all flexibility. Choose precisely the model from two layouts which best fits your lifestyle. HYMER Van motorhomes are semi-integrated motorhomes that make a practical second car
Good things come in small packages
They say all good things come in small packages…and that's certainly true of the new revamped HYMER Van.
Iconic Hymer in the 314
Nick Barker, Sales Manager at Travelworld said: "Historically, Van was a star performer in the UK for HYMER. Agility and functionality are key design focus areas for the HYMER development team and Van 314 certainly delivers. A sub 5.5m semi -integrated motorhome with a decent garage, fixed double bed and full washroom facilities is incredible and from the orders and interest already Van is set to become another iconic Hymer". (Nick Barker, Erwin Hymer Centre Travelworld, 2016)
Making waves
With HYMER's unswerving dedication to quality and whole-hearted attention to detail when creating innovative space-saving solutions, this new semi-integrated model certainly made waves.
Focus on small size
The focus on small size, yields no evidence of scrimping on any aspects of the design and some industry experts hinted this model was a potential threat to its contemporary rivals.
Premium HYMER motorhome "shrunk in the wash"
It was described by Practical Motorhome magazine as 'a Premium HYMER Motorhome that's shrunk in the wash'…perhaps suggesting that the German brand has got both the size and the quality right on point for the market?
314 Low profile model
The HYMER Van was originally launched in 2006 and was heralded for its compact-size, competitive price and high quality combination. The new version does not shy away from these features but is now a low profile model which is the first of its kind.
Aimed at couples
The van is aimed at couples and is therefore a 2 berth in size with an optional 4 seats. The payload is 1,005 kg and the gross weight is 3,500 kg. It measures 5.45 m and has a lightweight AL-KO frame that requires a shorter wheelbase of 3,150 m, allowing for a shorter length of vehicle. The 130 bhp means that nippiness is not ruled out either.
About the available space
Space-wise there are a number of different solutions, with an underfloor storage compartment; a rear transverse bed which can be folded upwards to create room, along with a worktop in the kitchen which can be extended if required. A swivel toilet and folding washbasin provide extra room if needed and a pop up roof vent is perfect for air circulation and allowing light.
Large garage
The large garage can be accessed via flaps on the inside and to ensure strong insulation and there is a PUAL body for thermal insulation, a system which also contributes to stability when driving.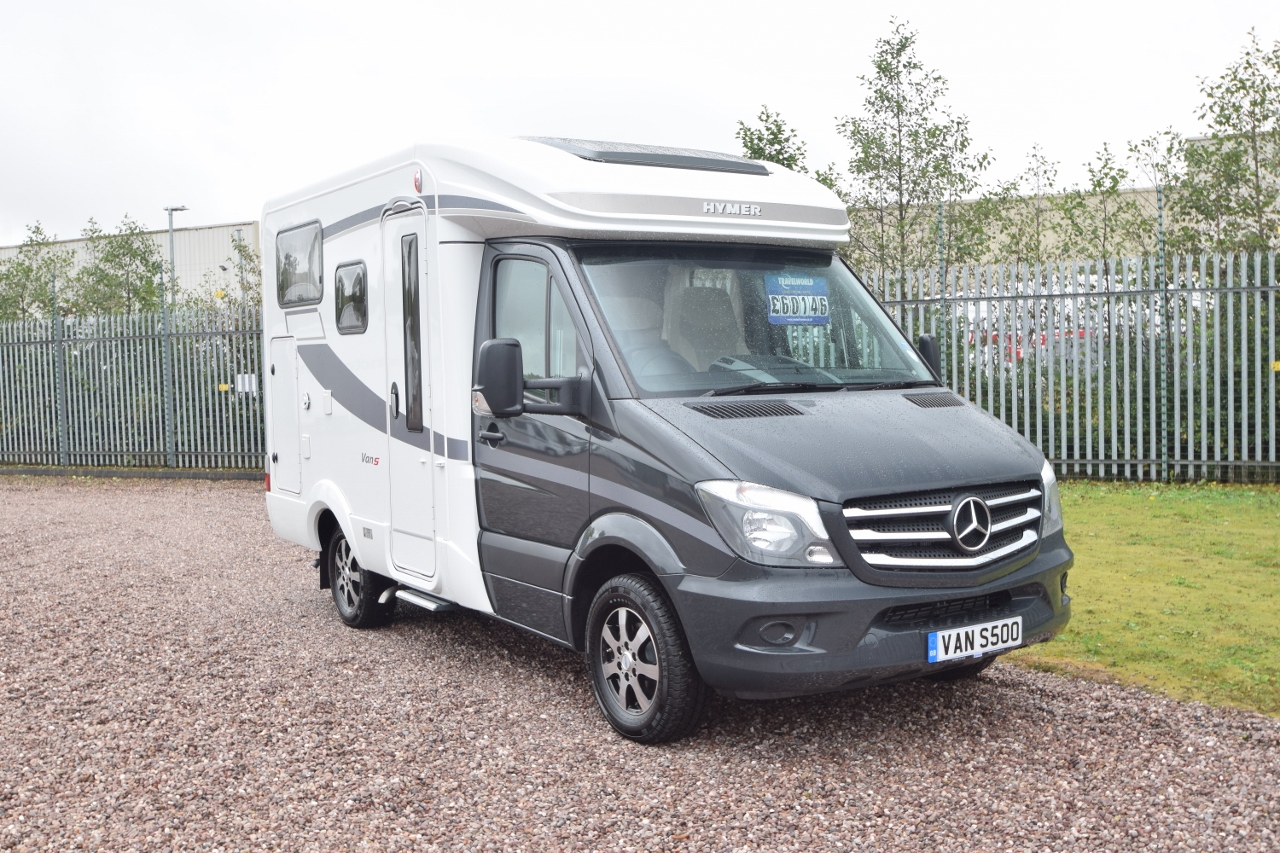 A curated collection of used and archive HYMER Van and HYMER Van S motorhomes for your informational pleasure.